AI無人機群防禦塔首亮相 國發會Next Big唯一太空國防新創登場台北國際航太國防
The world's first AI-Swarm Defense Tower debuts in Taipei's Aviation & Defense Technology Exhibition
Press Release
Corporate Story
Aug 31, 2023
睽違四年之久的國內唯一專業航太及國防展會「台北國際航太暨國防工業展(TADTE)」雙年展將在9/14開始為期三天的展覽。此次展會將結合政府六大核心戰略產業,包含國防、航太、太空科技、無人系統載具及智慧應用。輔由總統親自頒獎的, [國發會Next Big 2023]中獲選的唯一國防產業-[創未來科技]也將參與這次的盛會,展示該公司於軍工與衛星通訊領域之豐沛研發能量。
創未來科技在此次展示主軸包含太空科技以及AI無人機群防禦系統:
在太空科技中,將首次展示低軌衛星通訊酬載(LEO Satellite Communication Payload)T.SpaceHub®與低軌衛星通信使用者終端機(User Terminal)T.SpaceRouter®的POC動態DEMO,這將會是低軌衛星通訊對接地面固定式與移動式終端設備的完整解決方案。此外,也將展出全尺寸(1:1)合成孔徑雷達(SAR) T.SAR®及相關技術介紹。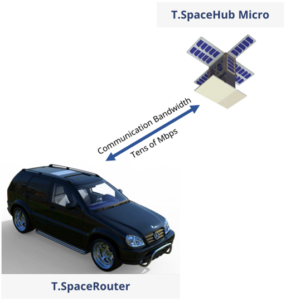 在無人機群防禦系統的部分,除了較為知名的T.Radar®外,這次也將首次亮相與之搭配的完整無人機群反制系統完整解決方案整合至單一可快速部署的AI防禦塔。其中就包含了主動式雷達T.Radar®、被動式雷達 T.Sensor®、軟殺干擾器
T.Jammer® 與硬殺攔截器 T.Interceptor®。該系統也將透過T.SpaceRouter®連接低軌衛星,在防衛塔周邊建立安全的區域無線通信能力,同時提供戰時必要的通訊韌性。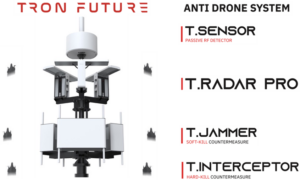 成立於2018年的「創未來科技」位於台灣新竹市,專注於研發與生產全球最先進電子掃描雷達和衛星通信系統。目前已成功開發台灣太空第三期太空計畫使用之衛星通信酬載系統,並完成我國首個衛星合成孔徑雷達酬載實驗體。從2022年起開始出口海外,國內合作夥伴包含國家太空中心、經濟部工業局、國防部等。
— English Below—
The largest aviation and defense exhibition in Taiwan, TADTE, will debut first time in 4 years in Nangang Exhibition Center from 9/14-9/16. This show will showcase defense & aerospace – one of the 6 core strategic industries promoted by President Tsai. Tron Future Tech, also the only defense and space start-up among the 13 Next Big 2023 by National Development Council, will present its R&D achievements in AI swarm defense and satellite communication during this event.
Tron Future Tech will debut both Space Technology & AI Swarm Defense Systems:
For Space Technology, Tron Future Tech will first time real-time demonstrate the communication between T.SpaceHub® (LEO Satellite Communication Payload) and T.SpaceRouter® (User Terminal).  The combined system will be a complete solution for LEO communications. On top of this, Tron Future Tech will display a full-scale (1:1) Synthetic Aperture Radar (SAR) or T.SAR® and its relevant technology development.
For the drone swarm defense system, Tron Future Tech will debut the full-spectrum of Swarm Defense integrated solution also an AI Defense Tower, which comprises of active radar, T.Radar®, passive detector, T.Sensor®, soft kill jammer, T.Jammer®, and hard kill interceptor or T.Interceptor®. The system is also able to connect to LEO through T.SpaceRouter® and build a safe 5G private or legacy mil-com wireless network surrounding the AI Defense Tower. The strengthened connectivity can enhance resilience during critical and emergent happenings.
Tron Future Tech was founded in 2018 in Hsinchu, Taiwan (R.O.C.). It focuses on researching and developing the world's latest phase array radars and satellite communication systems. The company has successfully developed the SatCom communication payloads for National Space Program – Phase III and completed the experimental model of the first SAR payload system. Tron Future has started to export to foreign markets outside of Taiwan from 2022. Domestically Tron Future is collaborating with TASA, Ministry of Defense, and Industrial Development Bureau of Ministry of Economic Affairs.